Our fitness and gymnastics program for homeschooled students is a fun way to fulfill physical education requirements.
Our classes combine sport themes with basic gymnastics and fitness concepts.
The students use a variety of equipment to develop necessary motor skills.
Our objective is to create an
atmosphere of fun and learning.
We believe having fun is vital when teaching children because it creates interest, excitement, and knowledge which lead to healthy living.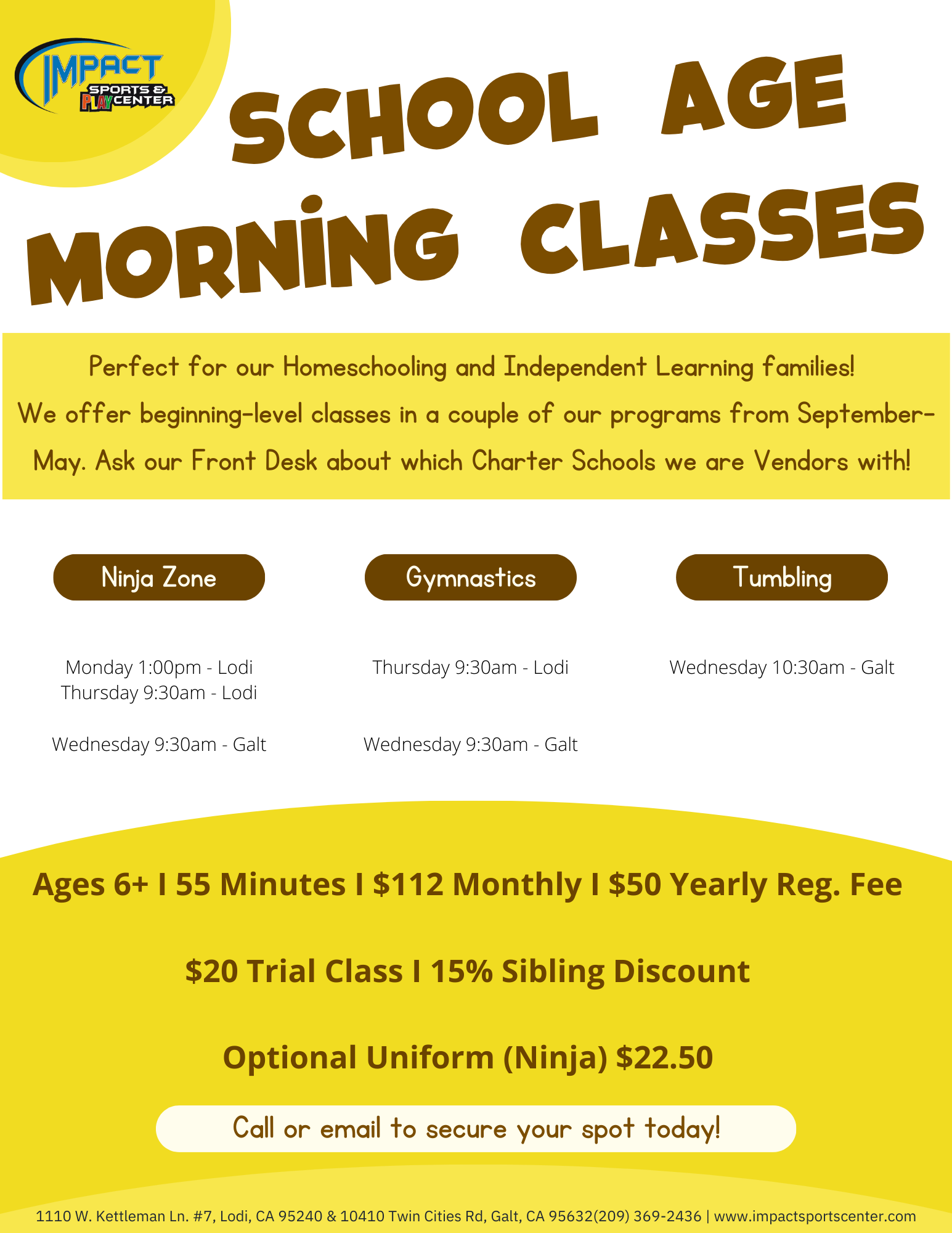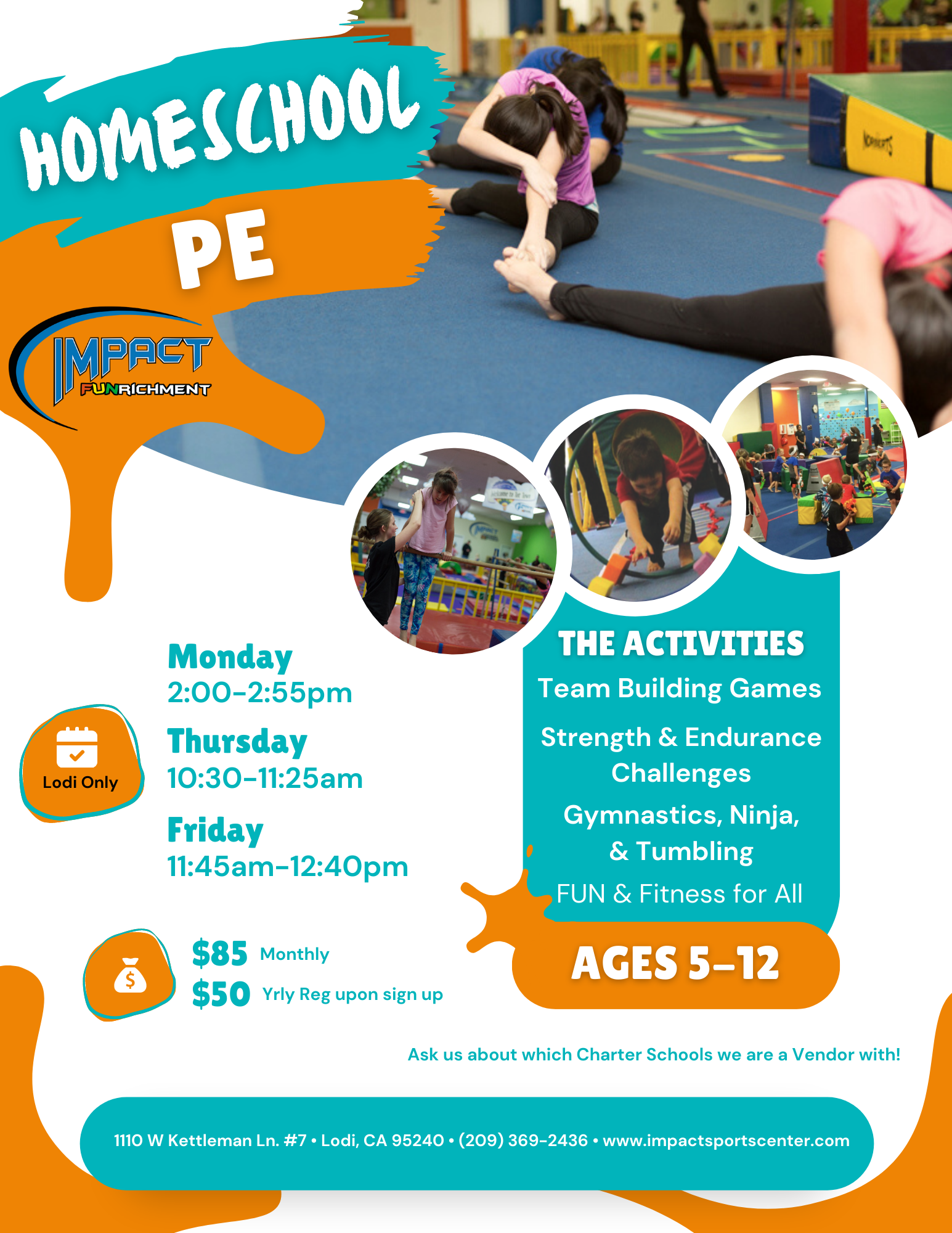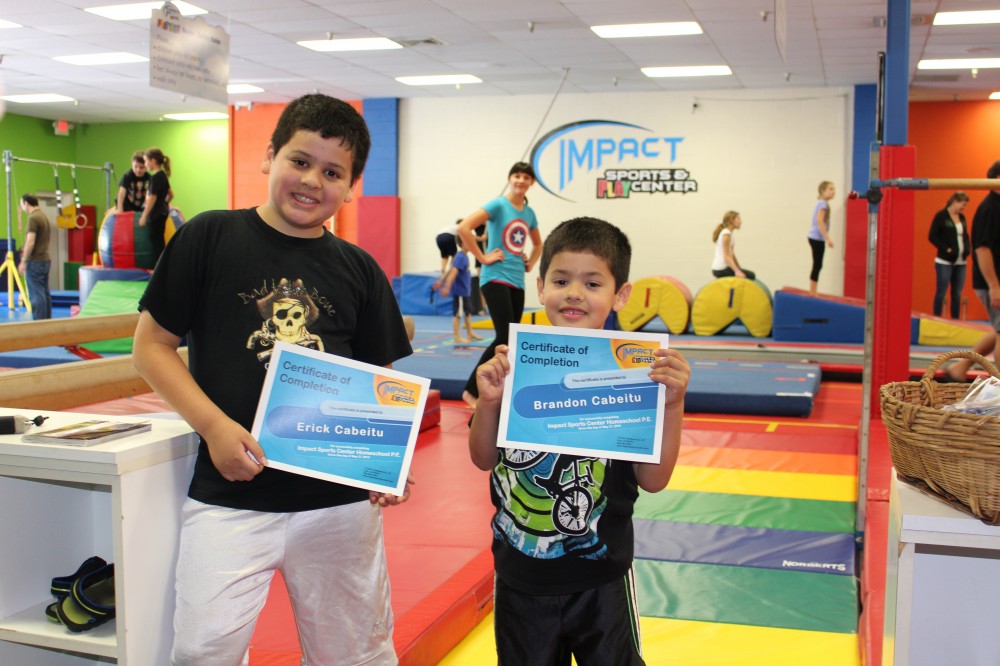 Why Choose Impact Sports Center Homeschool P.E.?
As former Homeschoolers ourselves, our Homeschool PE Program is specifically designed to meet the needs and budget of Homeschool families.
Each class is designed to teach basic gymnastic skills, fun group activities and games, Cardiovascular activities, and more.
Some of the other focuses include flexibility and strength activities.
Students are exposed to a curriculum of physical activity revolving around calisthenics and gymnastics.
This class is taught by our professional instructors.
If your child is currently not enrolled in any of our other gymnastic classes, a yearly registration fee of $50 is due prior to the first class.
Tuition is $112 for School Age Morning Classes (Gymnastics, Ninjas & Tumbling) and $85 for Homeschool P.E. Classes.
TUITION, PAYMENT & ENROLLMENT EXPLAINED
Monthly tuition is due on the 1st of each month. If you will be submitting payment vouchers from a Charter School, the Front Desk needs to have the voucher turned in prior to the 1st of the month to ensure no interruption in classes.
If you choose to drop the class prior to the end of the program, you must submit the drop form to the Front Desk by last day of the current month no later than 7PM.
When registering, you are reserving a spot in a specific class every month. We do not offer makeup classes for missed classes.
CHARTER SCHOOL PARTNERSHIPS
We are currently a vendor with Connecting Waters, Heritage Peak, Rio Valley, South Sutter, Visions & Vista Oaks Charter.
Lodi Hours:
Monday: 12:30pm - 7:30pm
Tuesday: 9:00am - 1:00pm | 3:00pm - 7:30pm
Wednesday: 9:00am - 1:00pm| 3:00pm - 7:30pm
Thursday: 9:00am - 6:45pm
Friday: 9:00am - 1:00pm | 3:00pm - 6:30pm
Saturday & Sunday: CLOSED
Galt Hours:
Monday: 3:30pm - 6:45pm
Tuesday: 9:30am - 11:30am | 3:30pm - 7:30pm
Wednesday: 9:30am - 11:30am | 3:30pm - 7:30pm
Thursday: 3:30pm - 6:45pm
Friday: 9:30am - 11:30am
Saturday & Sunday: CLOSED