Our tumbling program is designed for those that strictly want to work on floor exercise and tumbling skills.
Tumblers will be able to utilize a variety of necessary tools to assist them in learning such as trampoline, incline mats, panels mats, handspring trainers and more.
There are tumbling classes offered for students 6yo and older of all levels from the very basic cartwheel to elite skills such as double-backs and twisting.
Tumbling is great for cheerleaders, dancers and gymnasts that just want to improve their floor skills.
This class is specifically for the brand new tumbler.
Students will learn proper stretching techniques with an emphasis on shoulder flexibility, strength training and core tumbling skills including bridge, handstand, cartwheel and rolls.
Skills learned in this class provide a strong base for continued progression.
In this class, tumblers are expected to have a moderate level of flexibility and the mastery of the beginning skills.
They will continue to work on improving flexibility and strength; elements that are critical to safety in tumbling.
Students in this class will be introduced to round-offs, kick-overs and back handsprings.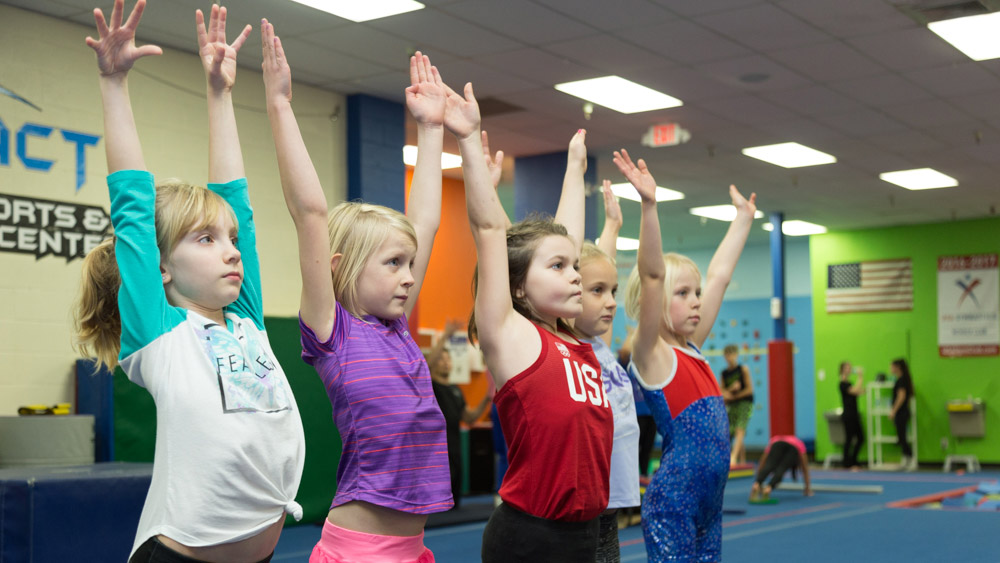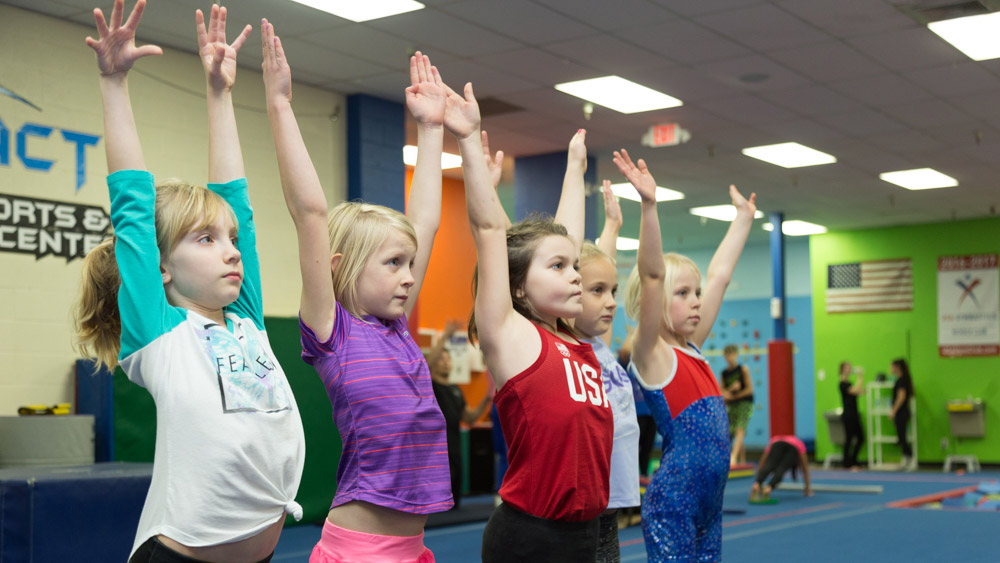 This class is designed for tumblers to perfect previously taught skills such as front and back handsprings while being introduced to aerials and back tuck drills. Athletes must have completed the White and Yellow level to enter this class or have completed a coaches assessment to secure a spot in this class.
The advanced tumbling class is for tumblers to learn and progress their running and tumbling passes. A round-off back handspring (with no spot) is required to enter this class. Students will work on tucks, back tucks and twisting.
The Advanced Plus tumbling class teaches the most advanced skills in the sport. This class is perfect for Level 4 gymnast and cheerleaders. This class is invitation only and participation for this class must be approved by the Director of Tumbling.
Maybe you need a specific skill for cheer or just want to work on perfecting a skill.
Our tumbling clinic is a program that accelerates a specific skill.
Maybe you are having trouble getting a skill and just need some specialized training.
Clinics can range from one day clinics to 4-week clinics
This is a 55-minute clinic that specifically works on getting a back handspring. This clinic is NOT designed to shortcut tumbling progression. The basic elements of our beginning and intermediate tumbling classes must be met.
Prerequisite skills to enter this clinic are bridge kick-over down a wedge, handstand against a wall for (20 seconds), handstand snap-down, straight-legged cartwheel. back bend with no spot and a round-off.
Lodi Hours:
Monday: 12:30pm - 7:30pm
Tuesday: 9:00am - 1:00pm | 3:00pm - 7:30pm
Wednesday: 9:00am - 1:00pm| 3:00pm - 7:30pm
Thursday: 9:00am - 6:45pm
Friday: 9:00am - 1:00pm | 3:00pm - 6:30pm
Saturday & Sunday: CLOSED
Galt Hours:
Monday: 3:30pm - 6:45pm
Tuesday: 9:30am - 11:30am | 3:30pm - 7:30pm
Wednesday: 9:30am - 11:30am | 3:30pm - 7:30pm
Thursday: 3:30pm - 6:45pm
Friday: 9:30am - 11:30am
Saturday & Sunday: CLOSED