Our Philosophy
Aerial Silks is a unique and Exciting Way to Become More Active.
Your inner acrobat is closer than you think at Impact Sports Center. Here we offer aerial classes to aspiring aerial artist of all ages and skill levels.
Our aerial program builds upper body strength, hand eye coordination and body awareness all while learning exciting skills that keep you wanting more.
Our goal is to help you achieve your goals by building strength and confidence throughout, all while exploring creatively on amazing aerial apparatuses.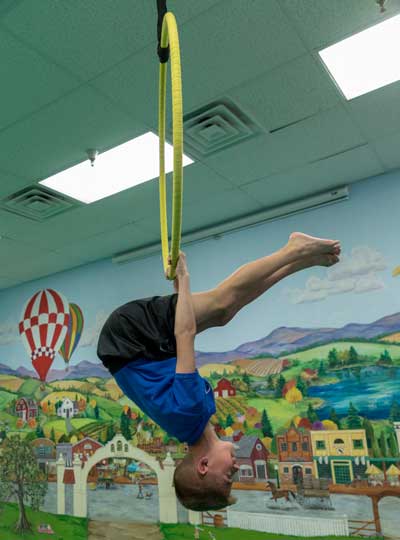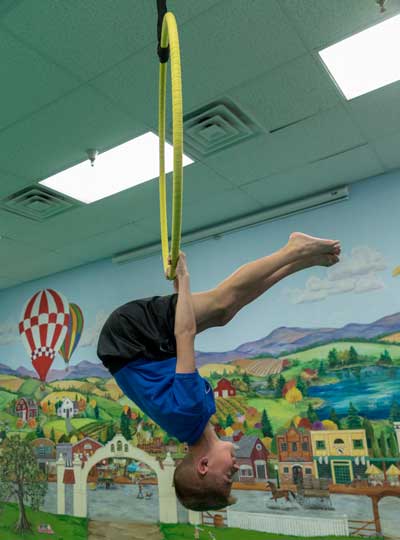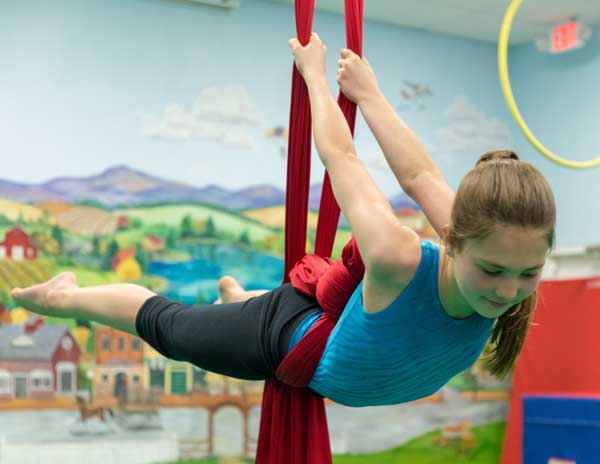 Our Classes
White Level
New to aerial? If so, this is the perfect class for you.
The focus of this class is on basic aerial theory and mechanics.
This beginner fundamentals class provides:
The knowledge and skills to maneuver within several of Dragonflies mixed level classes.
We will teach you how to use:
Leverage, gravity and momentum in your favor as well as proper body alignment and shoulder placement to elongate your aerial journey and protect against injuries.
Our introduction to aerial class covers:
Our "First 40" curriculum beginning with lifted hangs and, should personal progression allow, ending with single rotation drops and sequences.
You will learn:
How to work smarter not harder, from the very beginning and set your aerial foundation properly.
Monthly Rate
Cost is $112
Please call the Front Desk for session start dates.
Aerial Silks Classes
White Level
This is a transitional class to prepare students for the yellow level.
Students will reinforce the knowledge they gained in the 3 week intro class while learning new skills.
Students will gain more knowledge in silk and body manipulation to make the skills they learned easier on their bodies.
Aerial Silk Classes
Yellow Level
This class is the intermediate level class
Takes students higher on the silks while challenging them to become creative with the skills they have learned.
On top of that they will learn more challenging inversions, wraps, floating skills and drops.
This class incorporates conditioning on and off of the silks to help our students become stronger on the ground and in the air!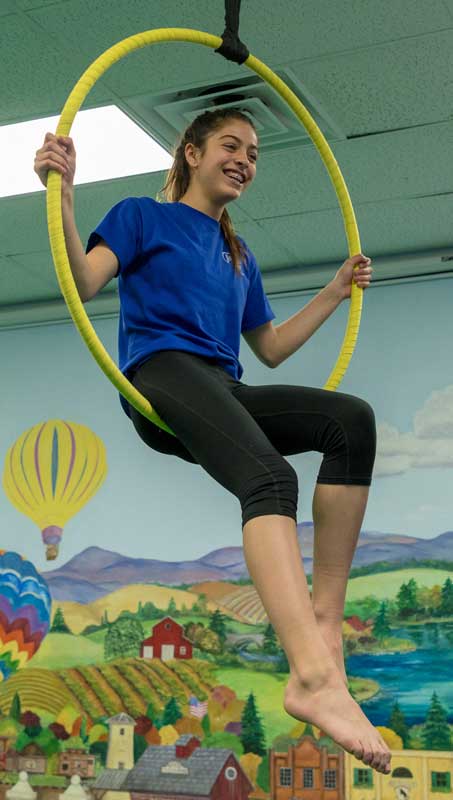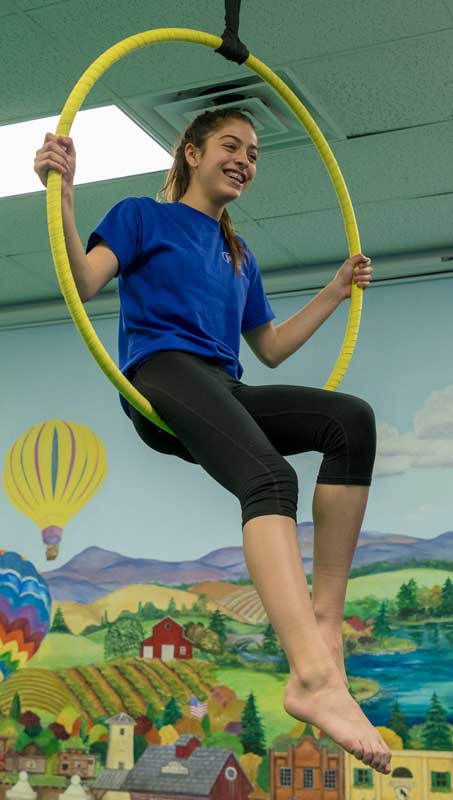 Aerial Silks Classes
Green Level
This is the most advanced level in our aerial silk program.
In this class, students will learn:
floating skills, belays, climbs, and conditioning drills.
Students will also learn to:
Transition from skill to skill on the silks, how to use leverage to their advantage, and how to add their own touch to the skills that they are leaning.
Just like in the yellow level classes:
Conditioning is incorporated into the classes to help students achieve their goals while keeping their body strong and safe.
Cirque
In this class, our students are cross-trained on mixed apparatus, just like gymnastics. We incorporate mixed apparatus such as Aerial Hoop, Aerial Hammock & Dance Trapeze. This class is a big hit with all students as it offers diversity and excitement while broadening your skill set. Red Dragonflies work on choreography & performance as well as complex aerial mechanics like multi-rotational & multi-directional drops.
Boot Camp
Looking for a new, fun and unique way to exercise. Bored with fitness & conditioning programs at the gym?
Take your fitness program to new heights with our Aerial Boot camp class. For adult men and women, our Aerial Bootcamps will give you the legs of a dancer and the core of a pilates instructor and the arms of an aerialist. Start with a dynamic group warm up and then move onto timed stations on mixed aerial apparatus.
Clinics are a great way for students to get help on certain skills they may not know or need extra help with. During clinics, students will get drills and exercises to help strengthen them in certain aspects to help with the skill they are practicing that day.
You'll Swing Into Shape In No Time!
Lodi Hours:
Monday: 12:30pm - 7:30pm
Tuesday: 9:00am - 1:00pm | 3:00pm - 7:30pm
Wednesday: 9:00am - 1:00pm| 3:00pm - 7:30pm
Thursday: 9:00am - 6:45pm
Friday: 9:00am - 1:00pm | 3:00pm - 6:30pm
Saturday & Sunday: CLOSED
Galt Hours:
Monday: 3:30pm - 6:45pm
Tuesday: 9:30am - 11:30am | 3:30pm - 7:30pm
Wednesday: 9:30am - 11:30am | 3:30pm - 7:30pm
Thursday: 3:30pm - 6:45pm
Friday: 9:30am - 11:30am
Saturday & Sunday: CLOSED